Millharbour
GDG was appointed by Nicholas O'Dwyer to provide a detailed design for the temporary and permanent works associated with a proposed sewer diversion to be constructed by Barhale.
The sewer is being diverted so that a basement can be constructed on the site.
GDG undertook the development of a ground model, based on the factual site investigation data received in relation to the scheme and a desk study of the geology of the area. The permanent works design comprised a ground movement assessment to quantify the effects of the tunnelling on neighbouring structures and infrastructure. Neighbouring Thames Water assets were also considered, as well as gas pipelines and the viaduct for the Docklands Light Railway. A tunnelling risk assessment was also completed.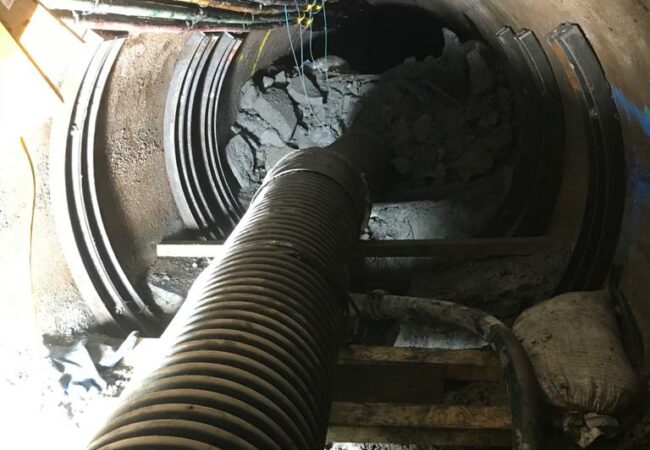 The Scope of Work
Interpretation of factual site information
Incorporation of construction sequence into the analysis
Assessment of proposed tunnelling works on neighbouring structures and infrastructure
Tunnelling risk assessment
Interjack design
Backwall and headwall design
Strengthening of existing sewer
Pipe jacking connection design
The temporary works design consisted of the determination of the jacking forces, the design of interject locations to reduce jacking forces, design of backwalls and headwalls.
The final connection from the new sewer to the existing sewer also had to be designed. This comprised a short run of pipe jacking from the final new manhole to the existing sewer to be constructed as part of the scheme. The existing sewer was a concrete sewer, which had to be strengthened with a steel plate before the new connection was broken through. The steel plate to strengthen the sewer had to be carried into the sewer in smaller parts due to limitation on access and assembled inside the sewer without the use of welding.